Language
KaVo Scan eXam One phosphor plate scanner [WOE]
| | |
| --- | --- |
| Shipping within | 1-30 working days |
Description

Ask a question
Get rid of the costs associated with the processing of classic X-ray films, thanks to modern PSP plates, which are reusable and at the same time extremely durable. The non-contact handling method protects the tiles, making them sterile and reliable at all times. The system scans and delivers an intra-oral X-ray within seconds. Photosensitive phosphorus plates are available in sizes 0,1,2,3, thanks to which the dentist has the opportunity to make all possible projections of X-rays inside the mouth. In addition, bite projections can be made in 4C format.
The KaVo Scan eXam One comes with a set of accessories including disposable casings and a plate storage container. The software attached to the scanner will increase the possibilities of digital radiology thanks to the possibility of creating a network with other, already functioning in practice X-ray devices.
Familiar environment
​
Scan eXam One is ready to use right out of the box. Your employees will appreciate the simplicity of working with it and will see the benefits of reliable and consistent digital images. A maximum of 7 seconds of reading the tiles reduces the valuable working time of the doctor, providing an excellent quality, digital diagnostic image that can be read on any computer. When an image appears on the screen, the auto-erase function cleans the board so that it can be used for re-reading. Digital photos that do not require development are easy to store, archive and available for preview.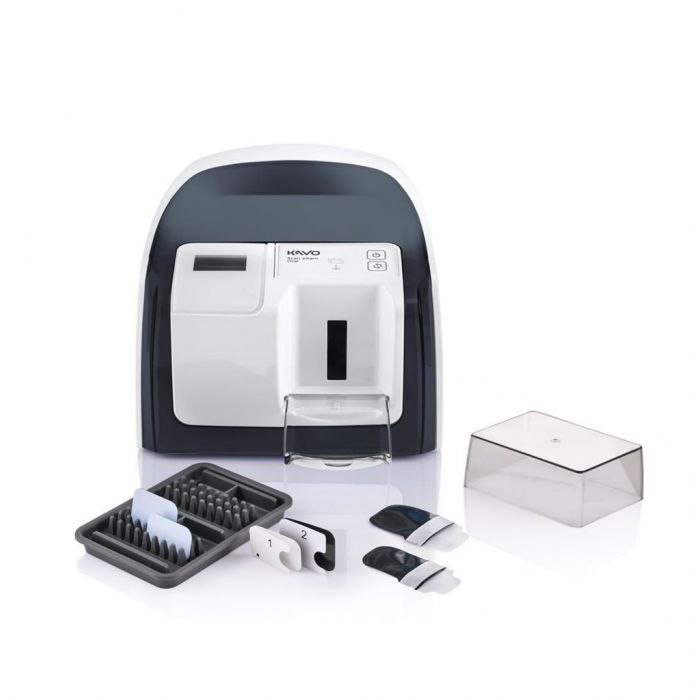 Excellent research and safety
​
The scanner gives a clear image visible in full, daylight (there are no problems related to overexposure or underexposure). It is equipped with reusable phosphorus plates, which are placed in a special, one-time casing, to increase their protection. This non-contact system protects against scratches and fingerprints, thus increasing the life of the tile. The fast and easy SmartFeed™ charging system minimizes errors and eliminates the risk of losing or reducing image quality. During processing, the tiles are cleaned and prepared for reuse. All this happens in a matter of seconds without the use of chemicals.
Looking for something more? We are happy to help!
Submit a free request for quotation - Add an Ad and we will take care of the rest.
Conditional access to
megavet.eu portal
Access to the content of the megavet.eu portal is possible only for persons practicing the medical profession or trading in medical devices.
Are you professionally related?
with the medical or veterinary industry?