Language
2023.06.04 VetCo workshops - Oncology of dogs and cats
Description

Ask a question
Practical workshops: Oncology of dogs and cats
Date – June 4
Location - SpecVet Clinic, Rostafińskich 4, Warsaw
Lecturers – dr n. wet. Anna Jaskiewicz
Price - 1900 PLN
Price with code "megavet" -

1800 zł
Enter the discount code during registration on the event organizer's website
https://vetedu.com.pl/szkolenia/onkologia-psow-i-kotow
VetCo workshop program
Oncology of dogs and cats
4 June, Sunday
REGISTRATION: FROM 8:30 AM
START: 9:00
ENDS: approx. 6: 00 p.m.
The end time of the class may differ slightly from the plan depending on how much time the practical classes will require and how much the group will be involved.

Session I, theoretical part:
introduction to oncology of small animals – etiology of tumors and carcinogens in dogs and cats,

what the first visit of an oncological patient should look like,

Chemotherapy - how to start? Discussion of the principles of administration of cytostatic drugs, equipment necessary for administering chemotherapy. We will also discuss possible complications occurring during the treatment of oncological patients and learn how to counteract them,

paraneoplastic syndromes,

examination of skin and subcutaneous tissue changes – what do we most often omit when recommending observation of changes? Review of the most common skin cancers,

Hematooncology – this is what every doctor should know about blood and bone marrow cancers.

Session II, practical part:
technique of performing lymph node biopsy,

technique of performing biopsy of thick-needle parenchymal organs,

Bone marrow biopsy technique.

During the workshops, coffee breaks and lunch are planned.

What will you learn?
Perform a clinical examination of an oncological patient and learn how to properly plan diagnostic tests of a dog or cat suspected of developing cancer;

Recognize paraneoplastic syndromes in dogs and cats;

Why it is worth studying every proliferative change within the skin and you will learn about the most common skin cancers in dogs and cats;

Basic issues of hematooncology;

Perform biopsy of skin lesions, regional lymph nodes, biopsies of parenchymal organs under ultrasound guidance, bone marrow biopsies;
Lecturer
Dr. n. wet. Anna Jaskiewicz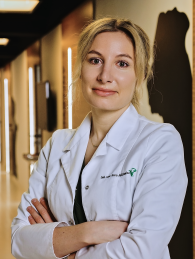 Consultant in veterinary oncology
Dr. n. wet. Anna Jaśkiewicz studied at the Faculty of Veterinary Medicine of the Warsaw University of Life Sciences, graduating in 2016. During her studies, she repeatedly went on internships abroad, completing clinical internships, among others in Germany – Tierarztliche Klinik Gessertshausen, Czech Republic – University of Veterinary and Pharmaceutical Science – Small Animal Clinic, Brno and Sultanate of Oman – Al Qurum Veterinary Clinic. Since her student days, she has been working in round-the-clock clinics, thanks to which she was able to gain experience in emergency medicine and emergencies. She took her first steps in veterinary oncology during her doctoral studies at the Integrated Doctoral School of the National Scientific Leading Center KNOW, which she completed in 2019 defending her doctoral dissertation entitled "Molecular mechanism of myoprotective action of geranylgeraniol in cellular model of statin-associated myopathy".
As a member of the European Society of Veterinary Oncology (ESVONC), Dr. Anna is constantly expanding her knowledge and experience by participating in trainings and courses, thus trying to provide her patients with the best care and access to the latest oncological therapies.
Veterinary oncology and molecular biology are her greatest passions.
Course certified by KRILW – 20 educational points
Looking for something more? We are happy to help!
Submit a free request for quotation - Add an Ad and we will take care of the rest.
Conditional access to
megavet.eu portal
Access to the content of the megavet.eu portal is possible only for persons practicing the medical profession or trading in medical devices.
Are you professionally related?
with the medical or veterinary industry?